Now more than ever getting your business found locally online is critical to your success. Mobile devices and new location sensing technology enable people to find exactly what they are looking for nearby. If you have what they want, and you show up in local searches you can acquire new customers and do more business easier than ever.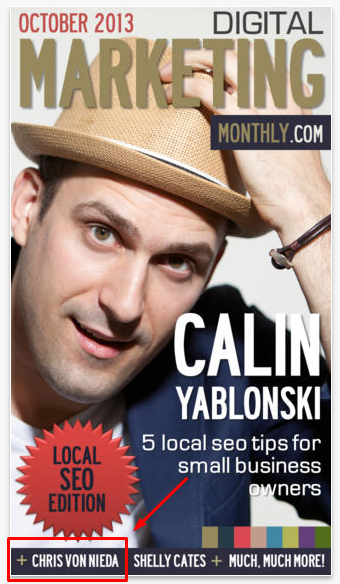 We are experts at Local Search Marketing. In fact, Digital Marketing Monthly liked this Local Search Marketing blog post we wrote so much, they featured us in their October 2013 online edition. You can get it from itunes by clicking here!
We want to talk with you to understand your business, your market, and the keywords your customers are using to find your competitors in the search engines. Then we'll work to get your website ranking at the top of the local search results so those customers find you instead. Our local SEO services include:
Onsite SEO analysis & recommendations
Local directory listings (ie, Local.com, SuperPages.com, Yelp.com, etc.)
Google Places setup & optimization
Bing Business Portal setup & optimization
Citation building
Link building
"We are going on our 5th month of services with Chris and the results speak for themselves! We are having a record month for Internet leads thanks to his hard work, knowledge of SEO and local business Internet marketing."
Alexandra Craig
Owner – Fitness Together Columbus, Ohio
What Tactics Does a Successful Local SEO Campaign Entail?
Local SEO campaigns are necessary for businesses with brick-and-mortar locations that serve a specific geographic market, usually not larger than the size of a city. In search results, local results look a bit different than normal organic search results; you'll recognize them by their accompanying drop pins on a map overlay. Local search results are triggered by a number of factors, including:
IP address or location of the device from which the search query originated
Geographic identifiers within the search query (ie, "seattle italian restaurants")
So, what needs to be done to have your business website rank well in the local search results?
1. Onsite SEO
A good local SEO campaign begins with solid onsite SEO. This includes all the factors that you can control on your website, including title tags, meta tags, h1 tags, and much more. It's also important to list your business name, address and phone number on the footer of your website. This way, it'll appear on every page of the site, strengthening the signal to Google that this is your business location, and that it's a physical location that can be placed on a map.
2. Google+ Setup & Optimization
After you've optimized your website from an SEO perspective, it's time to set up your Google+ local business page. To do this, you'll need to have a Google+ account, which you can create at plus.google.com. After you've logged in, select "Pages" from the menu on the left side (it may be hidden in the "More" category), then select "Local Business or Place." Follow the instructions from there to complete the setup. This step is crucial; without completing your profile, your business website can't be displayed in Google Local search results.
Be sure to fill out every field entirely and thoroughly; this is very important. Add at least 10 images (this can be images from your office, outside your office, employees, the break room, anything), and at least one video. The video can be taken using a smartphone, and can be a simple hello from the company CEO, welcoming visitors to check out the website.
3. Bing Business Portal Setup & Optimization
Bing is the counterpart to Google, so be sure to set up your business in Bing Business Portal as well. Follow the instructions at bing.com/businessportal to get started.
4. Local Directory Listings
Examples of local directories include SuperPages.com, YellowPages.com, and Yelp. We recommend Yext.com for completing thorough directory listings.
5. Citation & Link Building
After setting up your Google and Bing business profiles, and listing your business in local directories, it's time to start building inbound links and citations to your business. Links are clickable text or images that point to your business website. Citations are mentions (clickable or non-clickable) of your business name, address, and phone number across the Web. When search engines encounter citations, they see it as a sign of credibility or trust, which improves your rankings within local search results.
Building links and citations is time-consuming, but necessary for good local SEO results.
6. Reviews
Customer reviews on your Google+ page are very important for local SEO. Ask your customers to leave reviews, and give them the link to your Google+ local page so they can easily do so. Higher amounts of positive reviews will quickly lead to better local SEO rankings.