The Google – Twitter partnership is official, with tweets already beginning to show up in the mobile search engine results. While tweets are not yet visible on desktop searches, Twitter data is already populating on Google's mobile search app. Likewise, the search engine giant promises to bring similar functionality to non-mobile searches in the very near future.
Tweets in Search Engine Results
When searching for topics, users will now see tweets that are relevant to their searches. For example, searching for Adam Levine or Taylor Swift will bring up a few of their latest tweets that you can scroll through, directly from the search results. If you were to search for the latest Fast and Furious movie, you might see tweets from several users; each sharing their own thoughts on the movie – via Twitter. Similarly, if you're interested in recaps and opinion pieces, as it relates to the most recent episode of HBO's Game of Thrones, you'll have the luxury of being able to access relevant tweets via Google Now.
To see this in action, just pull up Google – from your mobile device – and search for anything that you want. For example, you can type "NBA Semi-Finals Twitter 2015" and you will see tweets from the @NBA.
Google Twitter Partnership –  Two Observations
Tweets in English – Indexing will initially be limited to English-language tweets, but Google and Twitter have promised to expand the partnership to additional languages in the not so distant future. Users will be able to search these tweets in the Google search apps on Android and iOS, as well as when accessing Google using a mobile browser. Desktop integration will reportedly also be added in the coming months.
Trending on Twitter – Google's announcement suggests that indexed tweets are more likely to show up in mobile search results when searching for information about something that is trending right now, in real time. Clicking on a tweet in Google's search results will open it in the web version of Twitter, or in the Twitter mobile app if you have it installed.
This could benefit Twitter by encouraging new users to sign up or by motivating existing users to engage with the service more often. Such a development could turn out to be highly beneficial to Twitter, given that the active monthly user growth has not met analyst expectations for some time. However, this arrangement does not just help Twitter.
It also benefits Google by allowing the search behemoth to deliver real-time information to its users. After all, in the age of instant gratification, who wants information that's weeks, days or hours old – when you can have access to up-to-the-second information!
Google Twitter Search Results – Coming to a Desktop Near You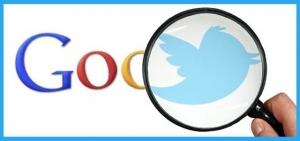 Google says it's working on incorporating this experience to desktop users, as well as to more countries and languages. Currently, the service is only available in English on mobile devices in the United States.
The Google Twitter pact is one of the most vital developments in the industry and one that everyone is talking about. Twitter's goal is to ensure that more non-users see tweets, which could in turn help expand its audience and ultimately help it generate more revenue – from a larger user base.
What the Google Twitter Alliance Means For Your Business
Now that Google's deal with Twitter is official, the question that many business owners are asking is how this partnership will benefit them.
The Google Twitter partnership will be a new SEO signal for websites and could also become a valuable source of traffic for your website. Relevant tweets using keywords that highlight what brands are doing in real-time will surely benefit businesses that take advantage of this new development.
If you are a company that operates online, this should come as welcome news to you. Thanks to the collaboration between Google and Twitter, you can expect better SEO results and other benefits every time Google picks up your tweets.