Facebook canvas ads are one of the newest developments in social media marketing, which recently became available to advertisers around the world – after months of testing. These advertisements were designed specifically for the Facebook mobile platform, and provide a unique, immersive experience for the user. When clicked, the ad goes full-screen and users can swipe through a collection of images and tilt and zoom in on panoramic images for more detail.
Facebook Canvas Ads – the Concept
Facebook's canvas ads provide a unique experience for users and an excellent opportunity for advertisers to create an immersive, branded experience. They function almost like a miniature website within Facebook for users to explore and learn more about products and businesses. The ability to pack so much content into one ad is very useful. This is especially the case, when targeting mobile users who may be hesitant to leave Facebook.
Advertising on mobile platforms has long been a challenge for marketers, but Facebook's Canvas Ads are one of the best mobile advertising tools currently in the business. Slow loading times and poor responsiveness have been challenges for mobile platform marketing, especially since the size of web page files has increased over the past several years. But Facebook has been a leader in optimizing mobile internet experiences. Facebook used cutting-edge coding techniques to create the Canvas Ads, which they claim will load up to ten times faster than other mobile platforms.
Facebook now has over 1 billion active daily users, 934 million of which access the social network from a mobile device. An optimized mobile marketing experience is of utmost importance to reach that huge mobile audience, and Facebook's Canvas Ads may be one of the best ways to do it. So far, user engagement has gone up since Canvas Ads rolled out. TechCrunch reports that the average view time for a Canvas Ad is a whopping 31 seconds, and that 53% of users' view at least half of the full Canvas after they open it. These are great numbers for marketers. A Canvas Ad campaign coupled with Facebook's ad targeting tools could pack a serious punch for your next marketing campaign.
How to Use Facebook Canvas Ads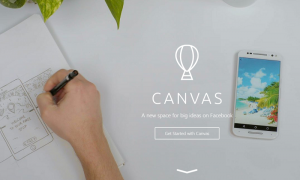 Now that you know the benefits of Facebook Canvas Ads, let's take a look at how businesses can use them to create an awesome mobile marketing campaign.
Canvas will be available under your page's publishing tools tab, on the lower left-hand side. It hasn't yet become available to all pages yet as the tool is in the "roll-out" stage, but is should be there for you to use soon.
Canvas Ads are remarkably easy to create, and provide an awesome amount of customizable features that you can choose from to create your immersive advertising experience.
First, you hit the "Create" button near the top of the page, and give your Canvas a name. Once you have named it you can add a wide range of features to your Canvas including:
Photo Carousels
Videos
Photos
Text Blocks
Product Sets
Buttons
You will also need to create a theme for the canvas, which is the background color for any blank spaces in the Canvas. Once you have selected the theme you can upload an image from your computer to be the header, a fixed logo that will appear throughout the canvas. Now let's take a look at some of the other fun features you can add to your Canvas.
Photo Carousels – All of the photos you upload to the carousel feature will need to be the same size and in JPG or PNG format. You can use a maximum of ten images per carousel. You can select tilt to pan as an option for your photos, so that users can truly "explore" your images.
Videos – Videos will need to be in MP4 or MOV format, and you cannot exceed two minutes of total video time for the canvas. You could have one, two-minute video or several short videos. Facebook recommends portrait orientation for the videos, and a minimum resolution of 720p.
Buttons – Buttons are another cool feature that Canvas Ads offer to link users to external sites. You can add up to 30 characters of text to a button, and choose to have it fixed throughout the canvas or you could have it only appear once.
Again, this tool is still in the beta test release phase, so it's not available to the entire general public just yet. However, when the social media platform does begin the official roll out, you can expect Canvas Ads to further reinforce Facebook's position as the dominant social media platform.
Use these tips to start using Facebook Canvas Ads for your business today. Have questions about how to use Canvas Ads for your business? Contact us and we'd be happy to walk you through it!