Facebook has recently introduced a new way to make remarketing on its site even better. Two new enhancements will provide advertisers with better advertising options targeting consumers who frequent the site. Facebook's new features are multi-product ads and new changes to Custom Audiences. For those of you that may not know, Remarketing is the type of advertising that makes it seem like ads are "following you around" on the Internet and they are also a service we provide our clients.
Multi-Product Ads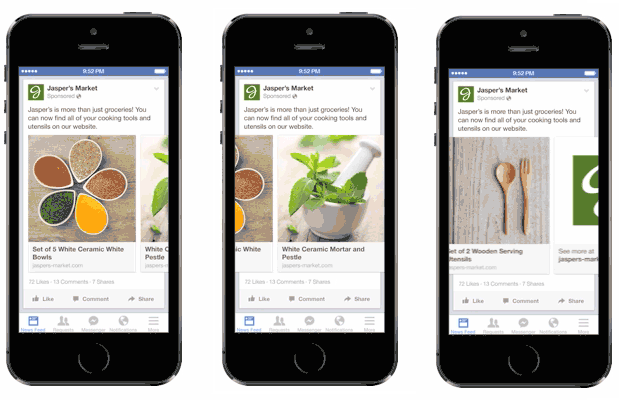 The multi-product ads feature a slideshow where the marketers can showcase to the visiting customers three products in a single ad unit. Pretty sweet! The visibility of the products is enhanced so customers will more likely to click the advertisement. For example, the slideshow of different items, say, handbag, perfume, or shoes would appear in the newsfeed to specified customers. This feature is available on both desktop and mobile devices making the scope of the ad far reaching.
According to Elizabeth Pace of social media agency Social Deviant, the fact that brands can now get three different products in front of the customer in the same ad unit offers the opportunity to make the experience more like online shopping than advertising. If anything, these new releases further show how targeted Facebook ads are nowadays.
Custom Audiences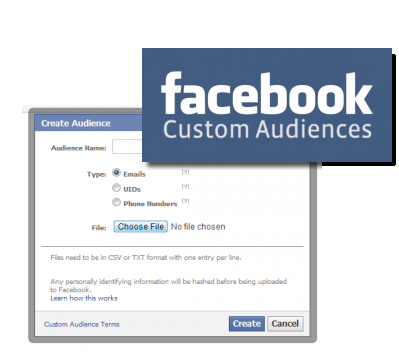 Several new features are also added to the Custom Audiences such as the Ads Manager and Power Editor that will allow businesses to build new kinds of audiences. With these improvements, Advertisers can be capable of creating and establishing a segmented audience. Such segmented audience's will then be targeted with respect to various products. Another new feature will allow businesses to target customers based on past activity history on their websites.
Facebook's new features are to be expected in the coming weeks.
Ronda Guimond, director of digital media at Enlighten, an integrated digital marketing agency is of the opinion that these new features will bolster Facebook's capability to provide good advertising. "Both [of the enhancements] open doors for Facebook competing with search and the direct response benefits that search provides," she further added.
The social media giant has earlier announced its decision to share its users' web browsing histories with advertisers so it should come as no surprise that brands are now allowed to target consumers based on browsing histories.
Providing for remarketing opportunities on Facebook is part of its substantial advertising activity. Since it offers services for free, it's going to need all the revenue it can get from advertisers.
There are speculations as to Facebook imposing premiums or paid subscriptions in the future for its services. These are mere guesses but one thing's for sure—Facebook is definitely evolving as an advertising tool. With the need to generate more ad revenue, the company will eventually have to also come up with more remarketing features to cater to the advertisers while, at the same time, keeping the regular users satisfied.
I for one spend quite a bit of time on Facebook and have in fact clicked on a number of ads and purchased services from Facebook advertisers. The ads in the actual post stream are the ones that catch my eye. How about you? Also, would you pay to "be on Facebook"? I probably would.